SiteGround Review
Having a base of 2,800,000 hosted domains, SiteGround enjoys a 98% customer satisfaction rating. They place a strong emphasis on fast, easy, and secure hosting and site-building and offer a wide variety of services to provide for just about any client's needs.
Overview & Verdict
Founded in Sofia, Bulgaria, in 2004, SiteGround was created by a group of university friends. The operation has since expanded to four company locations globally, with holdings in the U.S., the U.K., Bulgaria, and Spain. They have grown to 500 employees and own numerous data centers around the world.
SiteGround is a web hosting provider that offers an array of hosting services. Placing a strong emphasis on eCommerce and ease of use, SiteGround is suited for beginning website builders and small businesses, offering higher service levels to appeal to mid-sized companies and resellers.
Control panel is easy to work with

Extensive services even on lower tier plans

Good value for money
High renewal costs
Fewer hosting plan options
Low storage options
Quick Info
| | |
| --- | --- |
| WooCommerce Hosting | Yes |
| Website builder based on Weebly | Yes |
| Fast server setup | Yes |
Select Services & Pricing
| | |
| --- | --- |
| Web Hosting | $2.99 – $7.99 /mo |
| WordPress Hosting | $2.99 – $7.99 /mo |
| WooCommerce Hosting | $2.99 – $7.99 /mo |
| Cloud Hosting | $100 – $400 /mo  |
SiteGround is widely known for its exceptional performance, delivering fast and reliable hosting services to its users. They use high-quality hardware and employ various optimizations, such as server-level caching and the latest version of PHP, to ensure that their users' websites load quickly and efficiently.
We see that the web host follows the leading companies in providing all the basic hosting services like shared hosting and WordPress hosting. With WooCommerce hosting packages in its arsenal, SiteGround provides the right tools for every online store too, which means that speed and security shouldn't be an issue.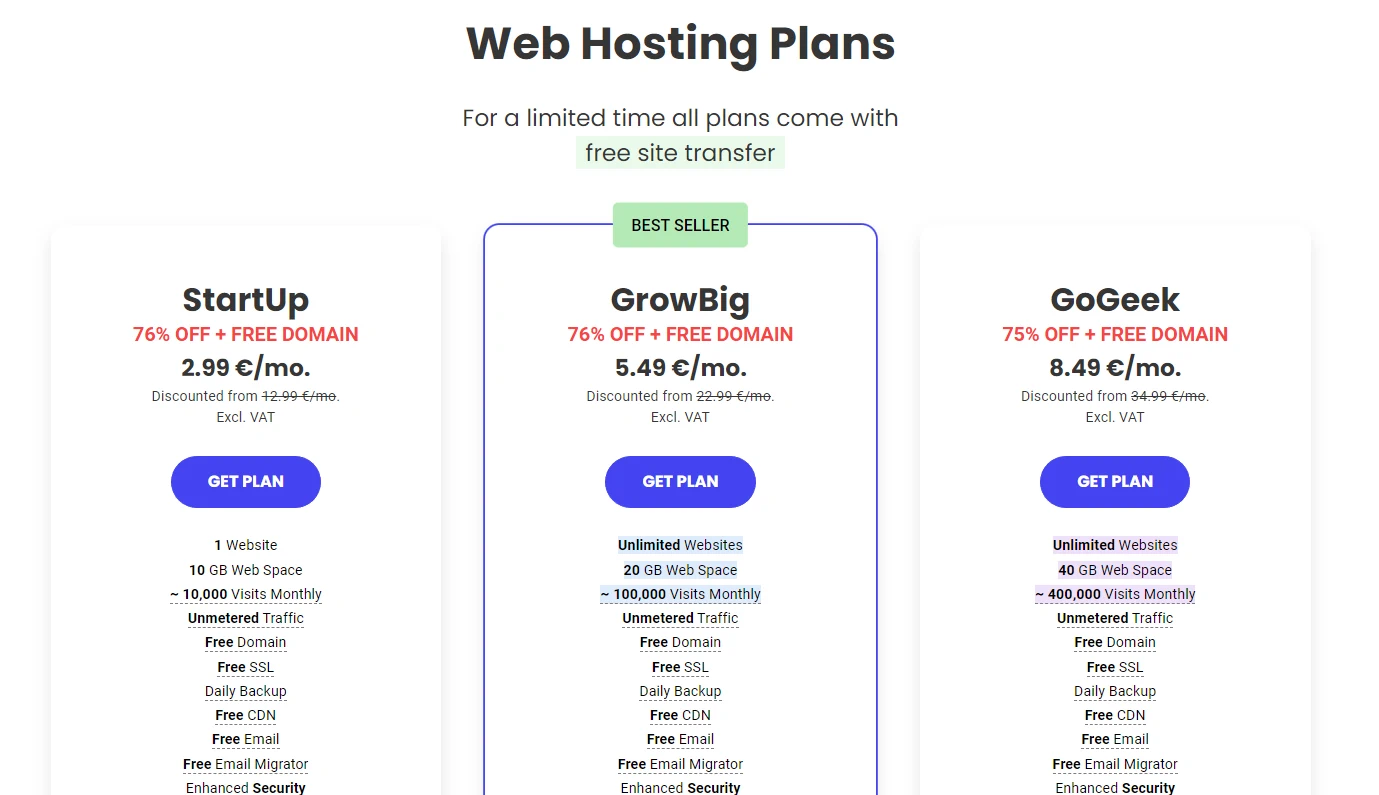 Scoring
We've covered all the popular issues and made very easy to follow instructions so you can get started easily and make all the right choices!
Although the usual uptime numbers don't show up on their website, SiteGround offers a 98% satisfaction guarantee, which is very pleasing. 
Uptime-wise, we didn't experience any hiccups or other occurrences, and based on our feedback, the service remains up and running for very long periods without issues.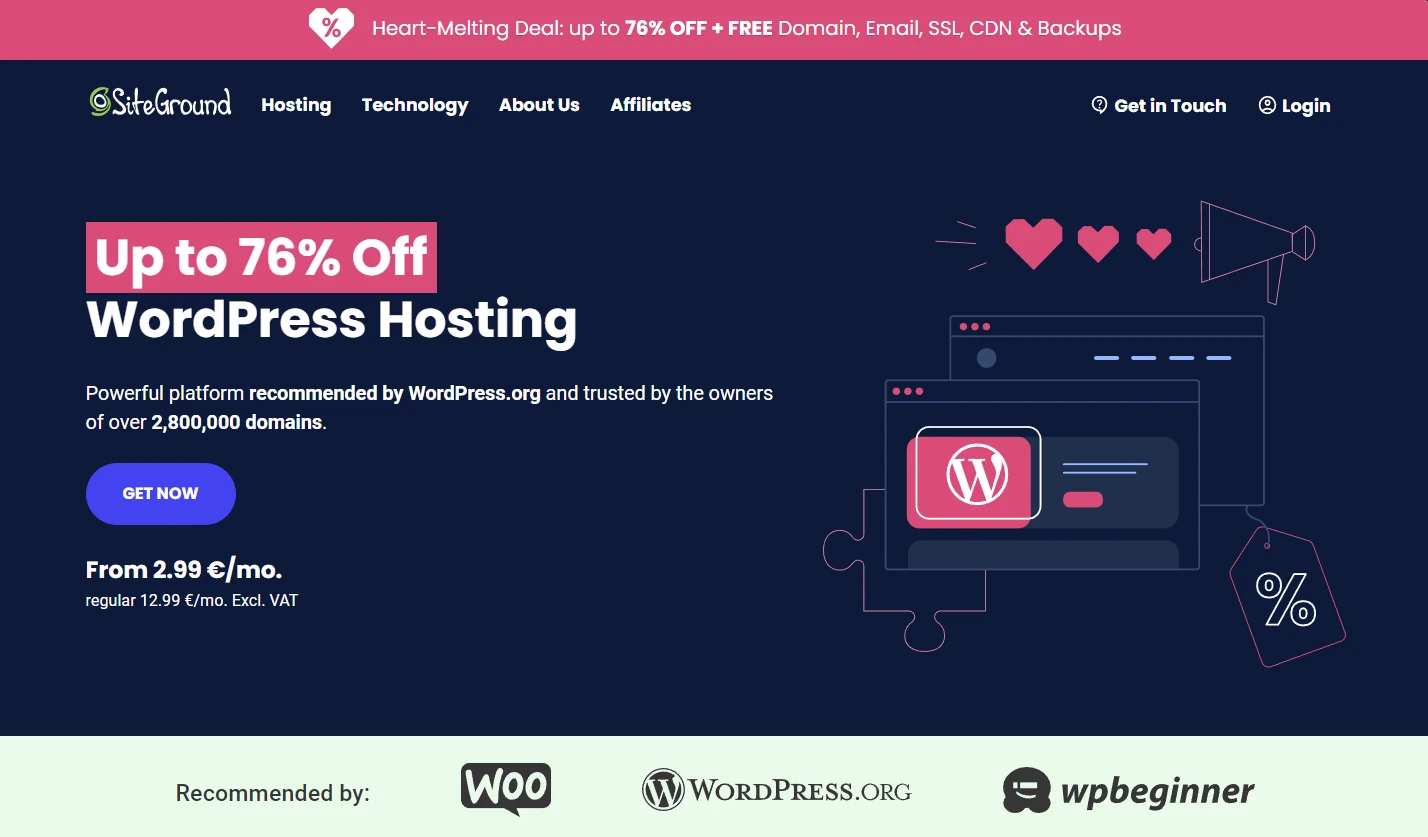 SiteGround is well known for its excellent customer support, offering 24/7 support through multiple channels, including live chat and phone. Their support team is knowledgeable, friendly, and efficient in resolving issues and answering questions. 
Additionally, they have a knowledge base library that holds frequently asked questions, information about tools, how to use their control panel, and tutorials on how to get started with WordPress, FTP, SSH and plenty more.
| | |
| --- | --- |
| Live Chat | 0m 32s |
| Phone | 0m 34s |
| Email | 31m |
SiteGround provides a user-friendly control panel that makes it easy to manage your website and hosting account.
They offer a range of tools and resources to help users get the most out of their hosting experience, including a free website builder based on Weebly. There are also auto-installers for popular software. 
Whether you are a beginner or an experienced user, SiteGround provides a seamless and intuitive user experience.
The StartUp basic package offers much of what a new website builder would need to get going for just $2.99 per month. This plan is meant to handle visits in the neighbourhood of 10k per month and appears to have the resources an amateur or beginner would need, albeit with less storage than most competitors.
WooCommerce comes pre-installed, and users can sell any product or service. The SiteGround WooCommerce page also highlights configurable shipping options and that clients can accept payments out-of-the-box. It's important to note that shared hosting, WooCommerce hosting, and WordPress hosting all start from $2.99 a month.
SiteGround offers four tiers of managed cloud hosting: Jump Start, Business, Business Plus, and Super Power. These packages are geared toward the serious customer needing more extensive resources, such as a minor streaming site or heavy-traffic eCommerce platform.
With fewer service offerings than its competitors, SiteGround may not have everything you need for your business, but they do have excellent value for money.
With its range of features and tools, SiteGround is a great option for individuals and businesses looking to create and manage a successful online presence.
Ready to rock with HostPapa?
With rock solid uptime and a 30-day money back guarantee you literally can't go wrong. HostPapa has been one of our top picks for the last 4 years, and with good reason!
Help Us Help You
Making these in-depth reviews isn't easy and we'd love to hear your feedback – if we did a good job, what you find informative, what was missing, what could be better – we're very interested in your experience, please share!