Hostinger Review
Hostinger is a web hosting provider that offers affordable and high-quality hosting services to individuals and small businesses. The company was founded in 2004 and has grown to become one of the largest web hosting providers in the world, with over 29 million users in 178 countries.
Overview & Verdict
Hostinger is suitable for beginners and has gained popularity for its competitive web hosting services at relatively lower prices with an easy-to-use interface.
With excellent server quality and uptime, Hostinger has grown from a small web hosting company to a globally reputed one.
Uptime of 99.9%
Great speed
Dedicated resources
Money-back guarantee
Website builder
Rocky migration

Limited options for advanced users
Quick Info
| | |
| --- | --- |
| Competitive pricing | Yes |
| Phone support | No |
| WordPress hosting | Yes |
Select Services & Pricing
| | |
| --- | --- |
| Shared Web Hosting | $1.99 – $3.99 /mo |
| Cloud Hosting | $9.99 – $29.99 /mo |
| VPS Hosting | $3.99 – $77.99 /mo |
| Hosting for Professionals | $3.99 – $14.99 /mo |
In terms of performance, Hostinger uses high-quality hardware and various optimizations to ensure its users' websites load quickly and efficiently.
Testing shows that Hostinger has good performance most of the time, while small drops in performance occur during peak loads.
Additionally, the company is committed to providing a secure hosting environment, with various security measures in place to protect its users' websites from potential threats.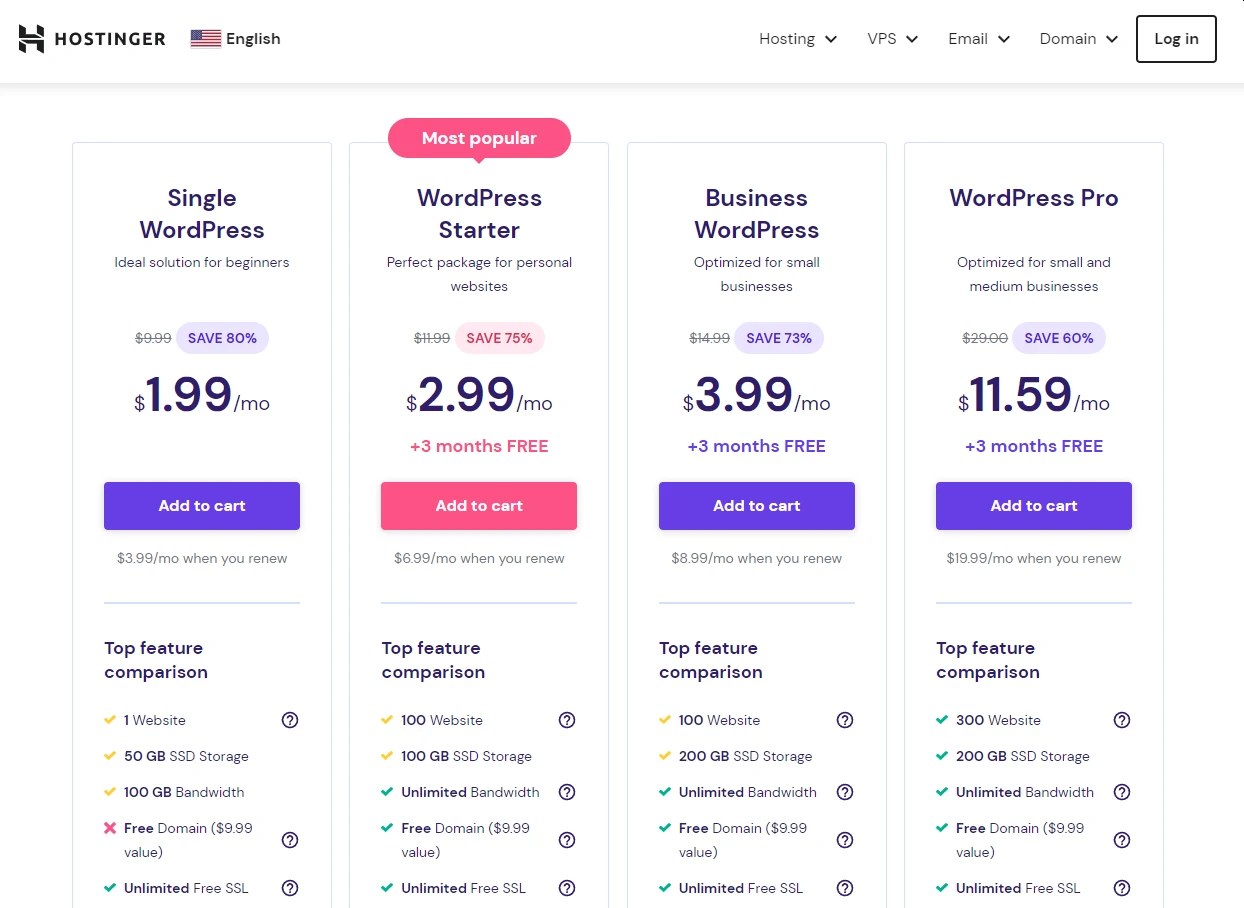 Scoring
We've covered all the popular issues and made very easy to follow instructions so you can get started easily and make all the right choices!
Hostinger guarantees a 99.9% uptime for its users, which, again, isn't enough for some businesses. Still, it ensures that a website will remain accessible to visitors for an extended period of time.
This level of reliability is crucial for the success of any website, as even a few minutes of downtime can negatively impact traffic and revenue. Hostinger's commitment to providing reliable uptime is one of the reasons why it is a popular choice among users.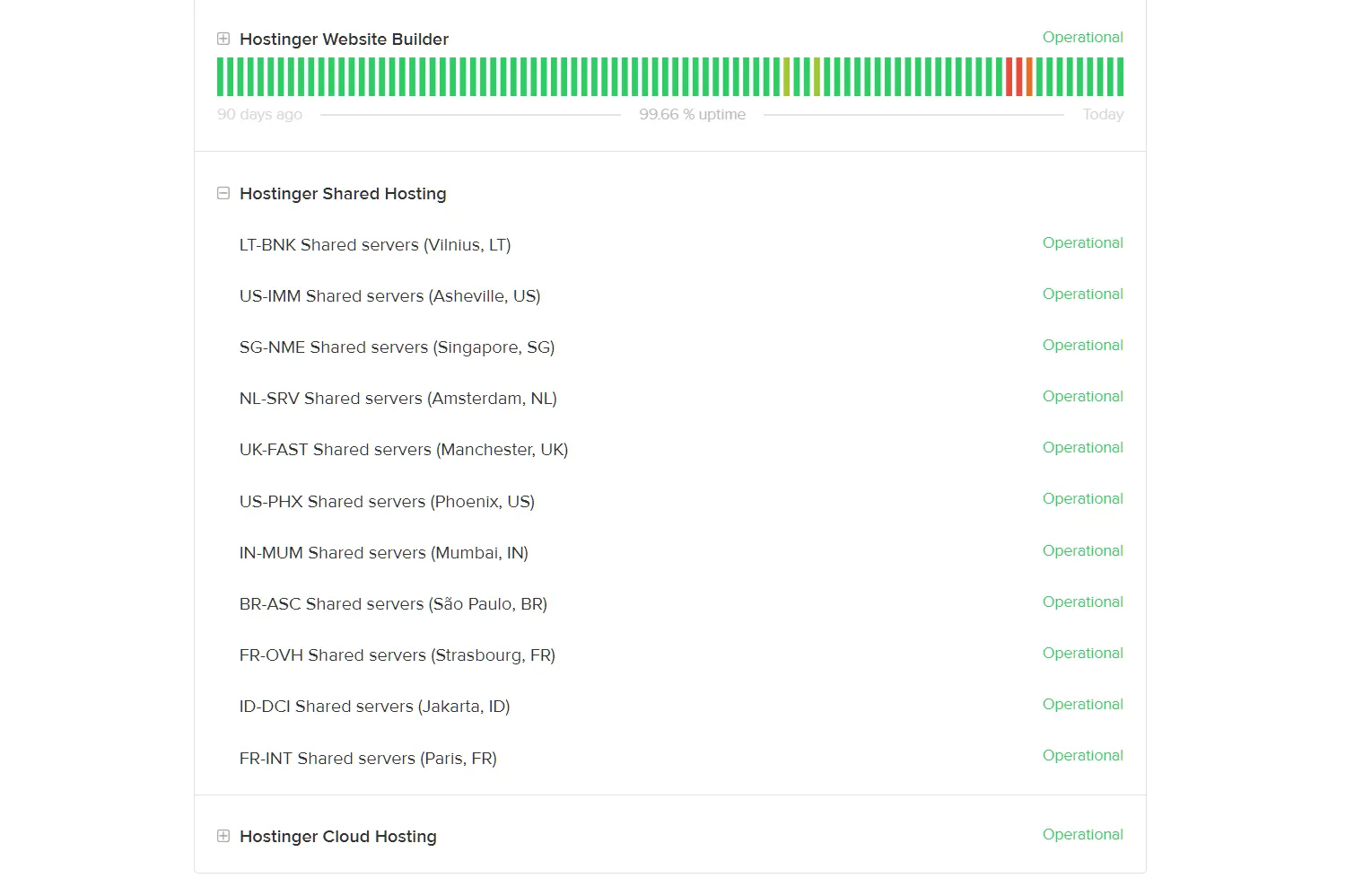 Hostinger offers 24/7 support through multiple channels, including live chat and email. Their support team is known for being friendly, knowledgeable, and efficient in resolving issues and answering questions.
They also provide a comprehensive knowledge base with articles and tutorials to help users troubleshoot common issues independently. One area Hostinger lacks is phone support since they only rely on live chat, which is available 24/7.
| | |
| --- | --- |
| Live Chat | 0m 42s |
| Phone | – |
| Email | 41m |
Hostinger provides an intuitive proprietary control panel that makes it easy to manage your website and hosting account. This applies to the shared hosting solutions, but if you need cPanel, you have to opt for a different hosting plan.
For people with limited technical skills, the website builder simplifies the process of creating a website and allows you to create beautiful websites. For all the others, there's support for WordPress – both on shared and all the other plans.
Hostinger offers a range of hosting plans, including shared hosting, cloud hosting, and VPS hosting, with prices starting as low as $1.99 per month, but they actively promote the $2.99 plan as a starting point.
They also offer a free website builder and 24/7 support, making it easy for beginners to create and manage a website. Their hosting plans are ideal for web professionals, beginners, low-traffic websites, and businesses of all kinds.
Since 2011, Hostinger's focus has been providing their customers with web hosting services that make life easier for their customers. They have also focused on improving their hosting services, server technology, and customer support.
Hostinger stands out with its seamless management tool designed for web professionals and beginners hosting their first website. They also focus on website speed and providing their customers with dedicated support.
It provides a great selection of web hosting services, including Shared Web Hosting, VPS Hosting, WordPress Hosting, and more. All services are divided into packages that cater to the different needs and requirements of Hostinger's customers, from beginners to professionals.
Jump to Hostinger!
With plenty of tools to create your first website, it's clear that Hostinger is a great choice for people just starting out. Their free domain and 24/7 customer support make the deal quite interesting.
Help Us Help You
Making these in-depth reviews isn't easy and we'd love to hear your feedback – if we did a good job, what you find informative, what was missing, what could be better – we're very interested in your experience, please share!