InMotion Hosting Review
InMotion Hosting is a reputable web hosting company that has gained ground in the last ten years. It's a web hosting provider offering reliable, high-performance services at affordable prices. With a range of features and tools, this hosting company is an excellent choice for businesses of all sizes looking to establish a good online presence.
Overview & Verdict
InMotion Hosting was always a web hosting company with many professional-oriented packages like VPS hosting and dedicated servers. After their rebranding, the company has recently had more solutions available to cover every growing need. 
Their shared hosting plan boasts competitive pricing and more features than the average hosting plan. By being reliable and relatively fast, InMotion Hosting ticks many boxes, and it's considered a great option for small businesses that need online exposure.
Great features on their shared hosting plan
90-day money-back guarantee
BoldGrid website builder
Slower speeds in EU
Higher pricing
Quick Info
| | |
| --- | --- |
| Website builder | Yes |
| WooCommerce hosting | Yes |
| Dedicated servers | Yes |
Select Services & Pricing
| | |
| --- | --- |
| Shared hosting | $2.99 /mo |
| Dedicated server hosting  | $89.99 /mo |
| Managed WordPress hosting | $15 /mo |
| VPS hosting | $19.99 /mo |
InMotion Hosting boasts great performance in the US, with generally fast load times and efficient use of server resources. Their servers boast optimizations for speed, using the latest hardware and software to deliver lightning-fast performance for your website, but that's still not enough in some cases, where we can spot loading times of nearly one second – mostly in non-US territories.
To remedy this, they also offer a wide range of performance-oriented features, such as SSD storage and a content delivery network (CDN), to ensure that your website runs smoothly and quickly.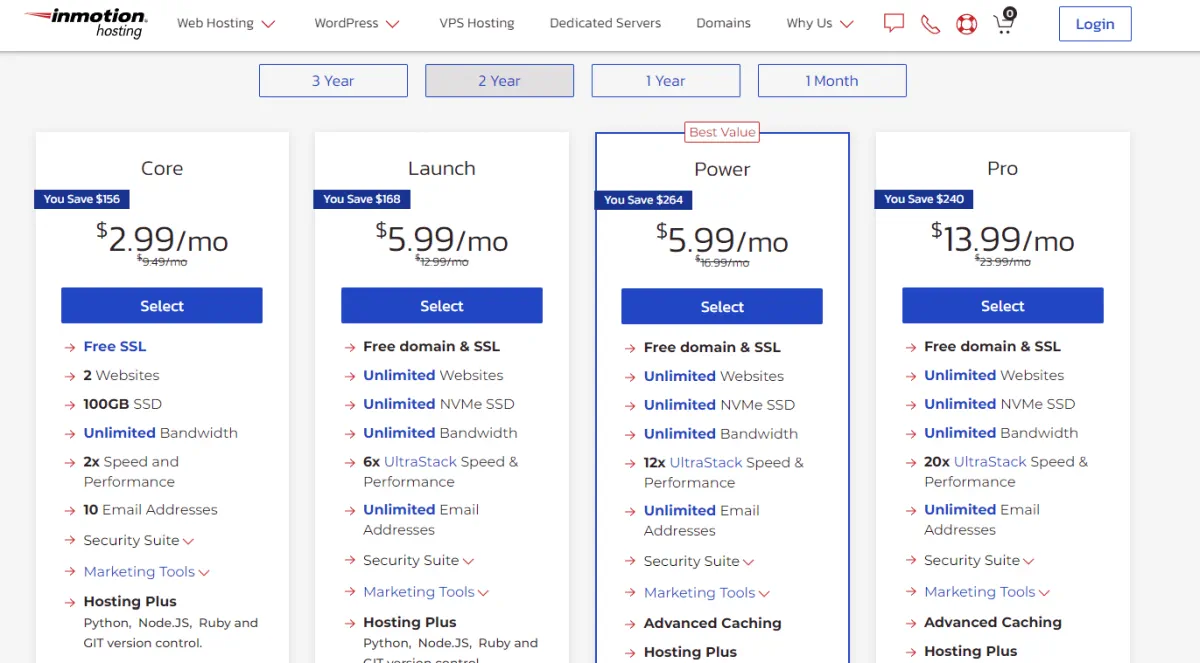 Scoring
We've covered all the popular issues and made very easy to follow instructions so you can get started easily and make all the right choices!
InMotion Hosting now guarantees a 99.99% uptime, which ensures that your website is available to visitors and customers virtually all the time. With 24/7 server monitoring and automatic backups, InMotion Hosting ensures that your website is always up and running, even in the event of an issue.
The uptime guarantee falls a little short for some users who experience outages, which is vital for online stores and businesses that rely on online sales.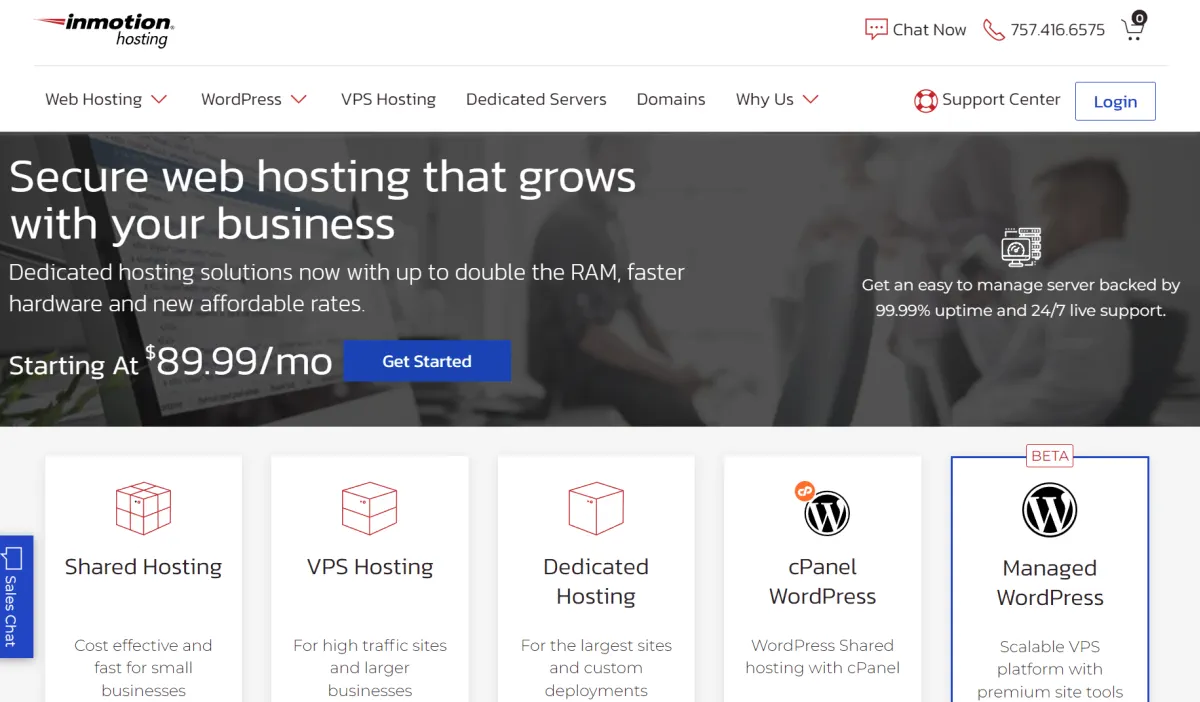 InMotion Hosting offers top-notch support, available 24/7 through phone, email, and live chat. Their support team is knowledgeable and responsive, ensuring that any issues or questions are resolved quickly and efficiently.
Additionally, they offer a range of resources, including tutorials and guides, to help users make the most of their services.
| | |
| --- | --- |
| Live Chat | 0m 33s |
| Phone | 0m 25s |
| Email | 35m |
InMotion Hosting provides a user-friendly control panel that makes it easy to manage your website and hosting services. With various one-click installations and the BoldGrid Website Builder, it's simple to get started and build your website quickly.
InMotion Hosting offers a range of integrations and applications, making adding functionality to your website easy.
InMotion Hosting offers competitive pricing, with a range of plans to suit different needs and budgets. They also offer a 90-day money-back guarantee, giving you peace of mind and allowing you to try their services risk-free.
nMotion Hosting is an excellent choice for businesses of all sizes looking for reliable and high-performance web hosting services.
They make it easy to get started online with top-notch support, user-friendly management, and competitive pricing. Whether you're a beginner or an experienced web developer, InMotion Hosting offers the features and tools you need to establish and grow your online presence.
Ready to rock with InMotion Hosting?
InMotion Hosting offers unbeatable performance and a wide range of web hosting plans, perfect for businesses, individuals, and eCommerce store owners. You can clearly have it all!
Help Us Help You
Making these in-depth reviews isn't easy and we'd love to hear your feedback – if we did a good job, what you find informative, what was missing, what could be better – we're very interested in your experience, please share!